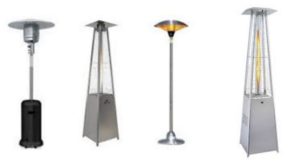 Importance Of Patio Heaters in Dubai
Patio heaters have now become very much popular these days in Dubai because with the assistance of these wonderful gadgets you can really keep your environments very warm. If there's a space just outside your house, then for sure you can use it for holding various kinds of different events for your family members and friends. You can also use the environment for spending good times alone with your loved ones. If you notice these days you will see that there are lot's of patio heaters that are being produced and launched in the market but all with a sole purpose of creating a good atmosphere for you when there is cold to keep your environment warm.
So since summer periods cant last forever, now we have decided to bring some of that summer heat back to your environment when it's winter. The addition of an outdoor heater can bring many benefits to homes, hotels, resort or restaurant owners. A stylish patio heater will keep your environment warm while expanding your space, which will create additional uses for your restaurant, hotel, resort or backyard patio.
What you should know about these outdoor patio heaters Rentals In Dubai?
Different environments require a different configurations with these heaters. Some outdoor patio heaters will circulate the heat in a circular motion, while sport heaters will focus the heat in the direction in which they are pointed towards only. Each type of patio heater also comes in different types of options. Spot heaters may be portable or mounted by brackets. Outdoor Patio heaters are available in a variety of configurations including tabletop, ceiling mount or permanent in-ground mounts.
What type of surrounding are you needing to provide heat for?
Outdoor patio heaters normally provide a 20-foot diameter heating area. This heat circulates only all over that area. Spot heaters takes out heat directly to an object without heating the surrounding area. Spot heaters are occasionally mounted above an area or can be placed on the floor. Outdoor patio heaters will accent the décor of any outdoor restaurant, hotel, resort or backyard patio. Spot heaters can be used either indoors or as well as outdoors, however, they always tend to have a more industrial look to them. Either heater styles will work very well depending upon your area setting. A warehouse type setting is ideal for the use of spot heaters, while patio heaters work best outdoors.
During the winter periods, patio heaters are mostly used in almost every homes. So In this article, I would provide you all the basic information that you need to know about these patio heaters.
All About Outdoor heaters
There are various different types of patio heater which are now in the market from which you can choose and buy the one that is very suitable for your needs. If you observe closely, you will know that these heaters are used outdoors are often used for generating heat when there's need for outside relaxation. These heaters mostly come in the shape of umbrellas or mushroom design and the installations are very easy. You will also get infrared radiation type of patio heaters in the market which are absolutely different from the normal heaters.
Great Usefulness
Patio heaters are very useful for sure and so often these days they are often being used by various restaurants and bars. The people who come to patronize these restaurants and bars can really enjoy a splendid time together with their family and friends. These heaters have so much impact in people's lives but there are some kind of environmental issues related to the heaters, but nevertheless these heaters can absolutely provide all the heat that everyone needs.
Different Types Available in the market.
There are various different types of patio heaters available in the market which you can buy depending on your needs and specifications. Maybe if you are a bit confused on which to choose from, you can also get help of which to buy from information's on the internet regarding different specifications. There are different websites across the internet that can really provide you all the great information about the shape, size and design of patio warmer that you can purchase from the market.
How it Works.
The working of these heaters is very different from the system of the normal heaters. They are designed in such a way that they can really bring  make an environment warm. During the month of October, they are not suitable for extreme winters. They have a small quantity of heat which is used for warming only a specific area. People who want to spend some time outside their house on the cold winter periods can surely use these heaters for warming their body
Types of heaters
These days 2 different types of heaters available in the market these days which are electric and normal heaters. The normal patio heater works with kerosene, propane and butane.